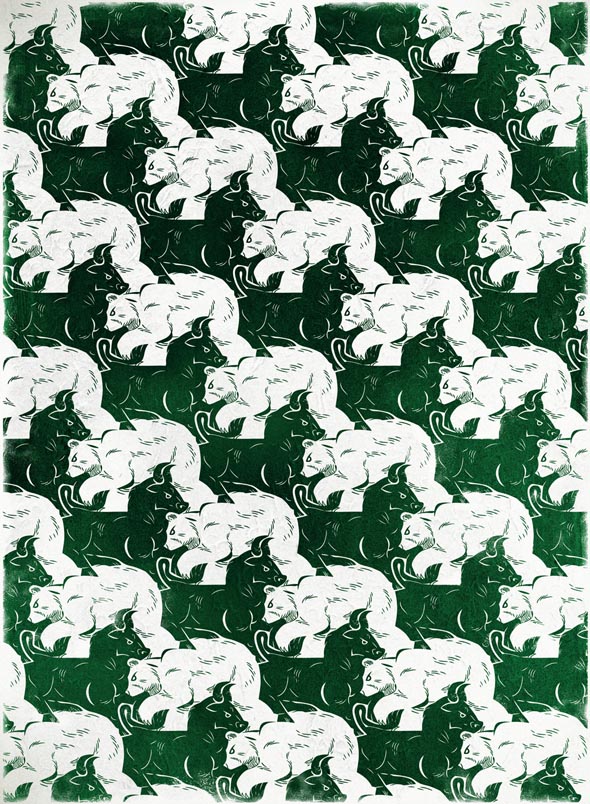 Spot the opportunity" Illusion Poster
Have you seen this
#Escher_inspired
poster released by Etrade Australia recently?
Titled
Spot the opportunity
, this poster was done by use of a
tessellation technique
.
Tessellation is a process of creating a two-dimensional plane using the repetition of a geometric shape with no overlaps and no gaps. As we noted before, tessellations frequently appeared in the
art of M. C. Escher
, who was inspired by studying the Moorish use of symmetry in the Alhambra tiles during a visit in 1922.
Here's an assignment for you today: can you think of one natural
tessellated structure
?
Perhaps bees and honey may serve as a quality hint ;D
"Spot The Opportunity" Illusion Poster | Mighty Optical Illusions
Link:
http://www.moillusions.com/2012/09/spot-the-opportunity-illusion-poster.html?utm_source=feedburner&utm_medium=feed&utm_campaign=Feed%3A+OpticalIllusions+%28Optical+Illusions%29&utm_content=Google+International
http://farm4.staticflickr.com/3658/3608677506_3dd8469ccb_o.jpg